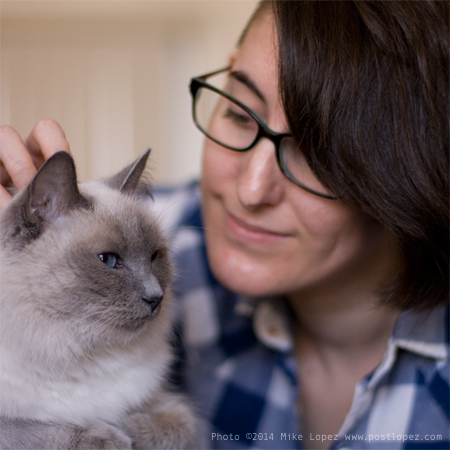 Rachel Dukes is a MFA graduate from The Center for Cartoon Studies (2013) who self-publishes on her website Mixtape Comics. Despite her attempts to avoid being a cat-lady, her most popular strips always feature her cat. Her first self-published mini-comic of those strips, Frankie Comics, was a winner of the 2013 Art Exchange program by Marc Calvary.
Rachel draws comics for BOOM! Studios' Garfield, Mitch Clem's As You Were, and is a regular contributor to anthologies and fanzines by other indie cartoonists. She is also working on her first graphic novel, slated for a fall 2015 release.
For ten years, Rachel ran the small press mini comics and distribution company, Poseur Ink (2003-2013). During that time Poseur Ink published collections of Dukes' journal comic Intentionally Left Blank and the anthologies Side A: The Music Lover's Graphic Novel and Side B: The Music Lovers Comic Anthology. Poseur Ink also distributed work by indie cartoonists Megan Rose Gedris, Colleen Frakes, Box Brown, Josh PM Frees, and Ed Brisson.
During that same decade, Dukes' also ran the custom badge/button website Mod Buttons where she created custom merchandise for other artists/companies such as: NIS America, John Fluevog Shoes, Saddle Creek Records, and VampireFreaks.
Rachel is a recent transplant to Los Angeles where she self-publishes comics and comic anthologies. She can be contacted directly at dukes.rachel (at) gmail.com